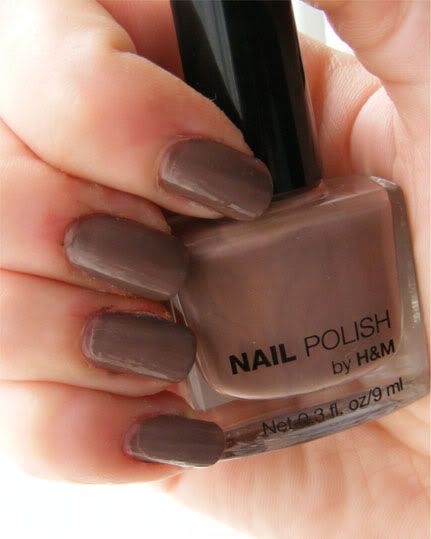 Sorry for not posting! First, I went on a holiday (And didn't mention it, internetparanoia, you never know who reads it), then when I came home, we got a puppy (I will post pics soon), and then I celebrated my birthday. Finally, a day of rest!
I went to the H&M the other day, and I saw they had new polishes. This taupe and yellow, and some other colors. I decided to go for the taupe one. Couldn't buy it myself, sadly enough, so it's a gift.
Today I decided to put it on my nails. I have a weakness for taupes. At first, I thought taupes were yucky and ugly and beh (Sorry if I insult you by saying this). But then I put one taupe on my nails for the first time and I fell in love. It's such a flattering color. Almost all taupes look good on me.
The application was good, this is two coats. It dried quickly. As you see, the color in the bottle is slightly lighter than the color on my nails. This is how it also looks in real life, I think it's about two shades darker. I like it.
What do you think?