It's been a while again. Poop. I was just so busy.
Good news, I got a better camera! A canon eos 1000D. And I'm so happy! It photographs like the best. Well, probably not the best, but the best I've ever had! That's why I put Frodo in the top picture. He's nothing to do with the polish, but I liked the picture.
On to the more exciting stuff for you.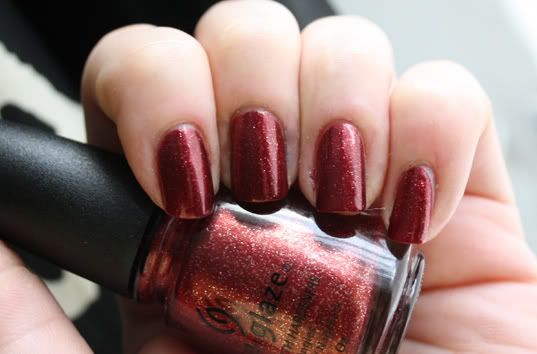 I got this polish a while ago, it was one of the three Vixens I wanted. It really got my interest. I love the color, a deep dark red, with a little hint of brown. It has silver and gold glitter. People call it realllly chunky glitter, but I just put one coat of topcoat on there, David, and I didn't notice any chunkyness. It was smooth and I thought it was just gorgeous.
And it just lit up in the sun! Sadly, the only ray of sun I got was on my way to school, and I didn't bring my camera. Poo >:
Here's another picture for you!